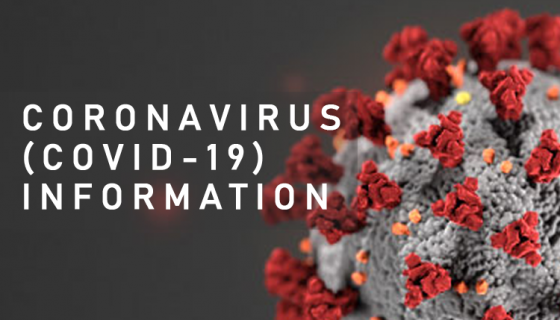 Please visit First Nations Health Authority for daily updates on COVID-19 and impacts for First Nations. Find additional information from BC Ministry of Health and BC Centre for Disease Control...
Read More
Latest News from the
First Nations Summit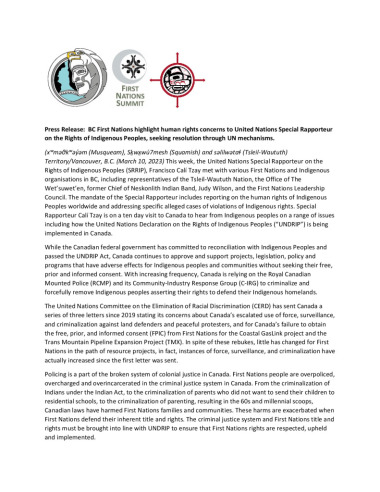 March 10, 2023 (xʷməθkʷəy̓əm (Musqueam), Sḵwx̱wú7mesh (Squamish) and səlilwətaɬ (Tsleil-Waututh) Territory/Vancouver, B.C.  This week, the...
Read More
Current Affairs
In depth analysis and discussion of recent issues and news worthy activities of interest to First Nations in BC, Canada and Internationally.
2019 UNESCO International Year of Indigenous Languages

An International Year is an important cooperation mechanism dedicated to raising awareness of a particular topic or theme of global interest or concern, and mobilizing different players for coordinated action around the world.
In 2016, the United Nations General Assembly adopted a resolution proclaiming 2019 as the International Year of Indigenous Languages, based on a recommendation by the Permanent Forum on Indigenous Issues.
At the time, the Forum said that 40 per cent of the estimated 6,700 languages spoken around the world were in danger of disappearing.  The fact that most of these are indigenous languages puts the cultures and knowledge systems to which they belong at risk.
In addition, indigenous peoples are often isolated both politically and socially in the countries they live in, by the geographical location of their communities, their separate histories, cultures, languages and traditions.
And yet, they are not only leaders in protecting the environment, but their languages represent complex systems of knowledge and communication and should be recognized as a strategic national resource for development, peace building and reconciliation.
They also foster and promote unique local cultures, customs and values which have endured for thousands of years. Indigenous languages add to the rich tapestry of global cultural diversity. Without them, the world would be a poorer place.
Celebrating IYIL2019 will help promote and protect indigenous languages and improve the lives of those who speak them.  It will contribute to achieving the objectives set out in the United Nations Declaration on the Rights of Indigenous Peoples and the 2030 Agenda on Sustainable Development.
The celebration is also expected to strengthen and reinforce the many standard-setting tools adopted by the international community which include specific provisions to promote and protect languages.
Please visit the UNESCO International Year of Indigenous Languages for more information: https://en.iyil2019.org/
2017 FNLG Press Conference
Premier John Horgan, Grand Chief Ed John (FNS), Minister Scott Fraser, A/Regional Chief Maureen Chapman (BCAFN) and Kukpi7 Judy Wilson (UBCIC) speak at the opening press conference of the 2017 BC First Nations Leaders Gathering with the Premier and Cabinet. (#FNLG2017)
AFN-Canada Memorandum

June 12, Coast Salish Territory, Vancouver, British Columbia –Leaders of the First Nations Summit (FNS) are congratulating National Chief Perry Bellegarde and the Assembly of First Nations for their efforts to secure and sign a Memorandum of Understanding (MOU) on shared priorities with Prime Minister Justin Trudeau.
The Assembly of First Nations – Canada Memorandum of Understanding on Joint Priorities, signed this morning at an AFN-Crown meeting, commits to regular, ongoing engagement between First Nations and the Government of Canada to ensure progress on priorities identified by First Nations. A copy of the MOU can be viewed at www.afn.ca.
Read the Full FNS Press Release
Download the FNS Submission, "a proactive First Nations Summit plan for the Crown to meet its constitutional obligations with respect to Aboriginal and treaty rights" [pdf, 91 pages]
UN Declaration should be embraced not feared
Last week, Indigenous Peoples and national governments from around the world met at the United Nations in New York to celebrate the 10th anniversary of the Sept. 13, 2007 adoption of the UN Declaration on the Rights of Indigenous Peoples (the Declaration). A year ago, when the UN Permanent Forum on Indigenous Issues met, Canada's Minister of Indigenous and Northern Affairs announced Canada's full endorsement of the Declaration, without reservation and committed to working collaboratively with Indigenous Peoples to fully implement the
Declaration. This is an international commitment that obligates all levels of government in Canada to follow suit, and thus why, Indigenous peoples across Canada are looking to provincial governments to make similar commitments, including here in BC.
The Declaration is not something to be feared, as Vaughn Palmer implies in his April 28th column. The Declaration is about recognizing and supporting the exercise of Indigenous Peoples inherent right to self-determination, it is intended to be a key instrument of collaboration between Indigenous peoples and governments, industry and citizens, it is not an instrument of obstruction. The Declaration sets out a concrete roadmap to begin addressing the lasting harms of past human rights abuses and violations and prevents such repetition in the present and future. This is one reason among many that the Truth and Reconciliation Commission (TRC) called on federal and other governments to adopt the Declaration as "the framework for reconciliation."
United Nations Declaration on the Rights of Indigenous Peoples
Upcoming Events
Events, meetings and other activities of interest to First Nations in BC.
Resources
Current published resources and archived content of interest.
All Resources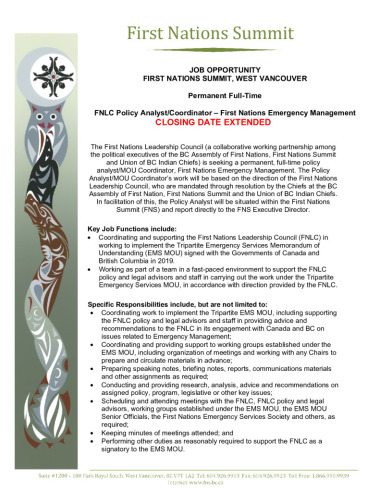 The First Nations Leadership Council (a collaborative working partnership among the political executives of the...
Read More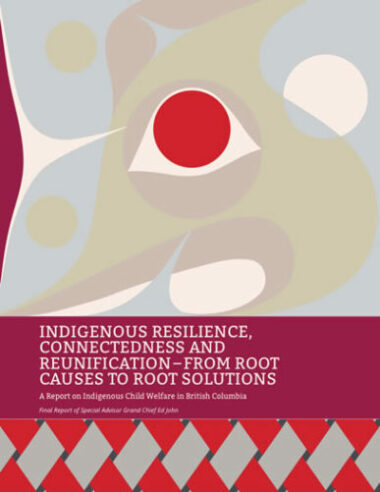 Dear Premier Clark, Minister Cadieux, BC Cabinet Ministers, Chiefs and Leaders: RE: FINAL REPORT OF...
Read More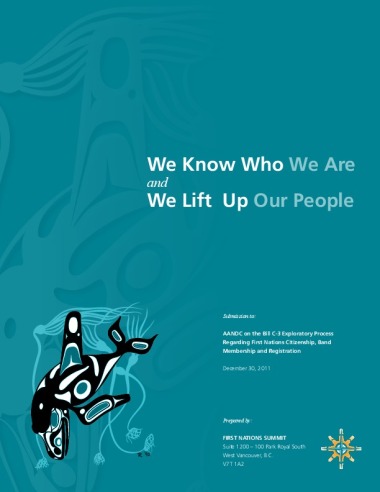 This report has been prepared as part of the First Nations Summit's participation in Aboriginal...
Read More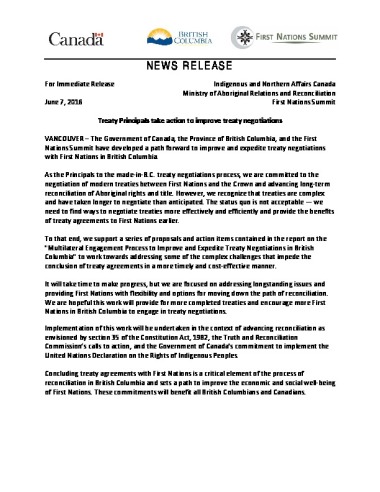 The Government of Canada, the Province of British Columbia, and the First Nations Summit have...
Read More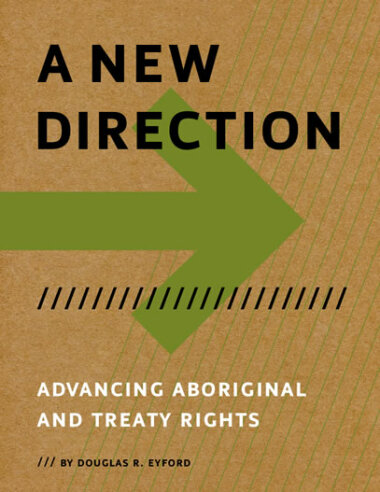 Throughout present-day Canada, the Crown entered into treaties with Aboriginal peoples1 who surrendered their claims...
Read More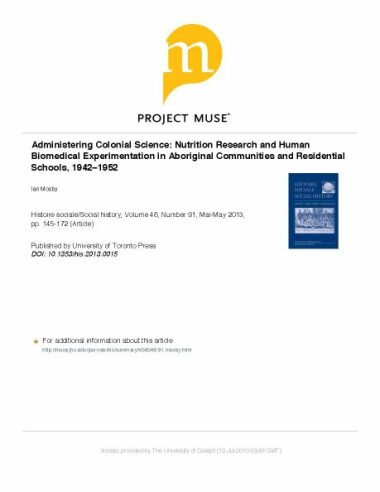 Between 1942 and 1952, some of Canada's leading nutrition experts, in cooperation with various federal...
Read More